First Burbank Hall of Fame class set

Ten former Bulldogs athletes will be among a group honored by the school in September.
source

By Jeff Tully
BURBANK HIGH — After months of hard work, countless hours of research and probably some spirited debate, the list has finally been completed.
The list of the first-ever class for the Burbank High Athletic Hall of Fame was announced Thursday.
And what a list it is.
The first group of 10 inductees includes athletes who have played in the major leagues, set national records, won NCAA championships and captured Olympic gold.
The Hall of Fame induction ceremony will be part of the Burbank High centennial taking place in September. Under the theme of "Honoring the Past, Celebrating the Present, Impacting the Future," the centennial committee will oversee more than 30 events and projects to bring together current and former students.
The Hall of Fame group will be honored at a special evening ceremony on Sept. 12 in the Burbank gymnasium. In addition to the ceremony, inductees will be commemorated in a display case located in the foyer of the main gym.
The display case will also pay tribute to coaches, administrators and others who have contributed to the success of the athletic programs at Burbank for the past 100 years. Additional honorees will be inducted every two years.
This year's inductees include:
1. FRANK SULLIVAN
Sullivan, class of 1948, earned All-CIF Southern Section accolades in baseball and basketball.
He went on to play for the Boston Red Sox and was a two-time All-Star. This year he will be inducted into the Red Sox Hall of Fame.
2. PAUL CAMERON
Cameron, class of 1950, was an All-American back in football for the Bulldogs.
He went on to a record-breaking career at UCLA, finishing third in the Heisman Trophy voting in 1953. His number (34) was retired by the Bruins.
He also played in the NFL for the Pittsburgh Steelers in 1954 and starred on the Canadian Football League.
3. CATHY FERGUSON
Ferguson, class of 1966, won two gold metals and broke two world records in swimming at the 1964 Tokyo Summer Olympics.
In her swimming career, she broke five world records, 10 American records and had 13 national titles. In 1978, she was inducted into the International Swimming Hall of Fame.
4. THE 1967 BOYS' SWIM TEAM
The team of John Ferguson, Ken Powers, Tim Thomas, and Pat Fligg captured a CIF Southern Section championship in 1967.
All four members were All-Americans and they all had top-20 national times in their events that year. One of the team's relay teams also set a CIF record.
5. JOHN MUSICH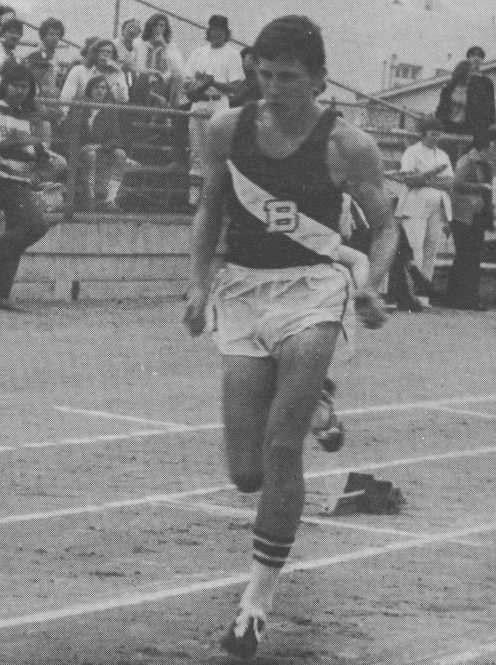 Musich, class of 1974, won a title in the boys' 880-yard race at the 1974 CIF-California Track and Field Championships.
In addition to winning a Foothill League title in cross-country, he still holds school records in the 880 and the mile.
6. JEFF NELSON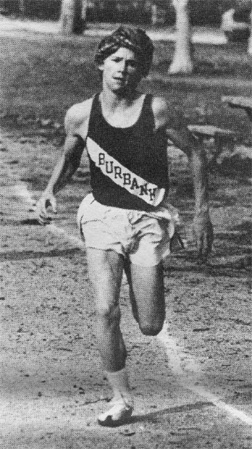 Nelson, class of 1979, set a record for high school runners in the two-mile race that lasted nearly 30 years.
In addition, he won a 3A championship in cross-country in 1978 and captured back-to-back state two-mile titles in 1978 and 1979.
7. GREG COAUETTE
Coauette, class of 1982, was the CIF Southern Section 3A champion in the pole vault in 1981 and the 3A long jump champion in 1982. Also a standout football player, he went on to play at USC (46) and was drafted in the NFL by the L.A. Rams. He played in the World Football League.
Greg honored at BHS 2008 Centenial Celebration
Frank Kallem, Greg Coauette and Dave Kemp
(Thanks Tim Tolnay BHS '69 for pics
LINK
)
8. TODD WATKINS
(no photo)
Watkins, class of 1984, was a three-time CIF Southern Section 3A diving champion and was the first diver in the 73-year history of the CIF to win three straight titles — doing so in 1982, '83, '84.
He went on to become a two-time Pacific 10 Conference diving champion at UCLA.
9. DEBBY DAY
Day, class of 1987, was a three-time all-CIF Southern Section pick in softball as a pitcher for the Bulldogs. She is still ranked among the top 10 in CIF in most consecutive perfect games and with four perfect games in a season.
She went on to success at the University of Arizona, leading the Wildcats to an NCAA championship in 1991.
10. FREDDY SANCHEZ
Sanchez, class of 1996, was a three-time All-Foothill League selection in baseball. He earned All-CIF Southern Section and league player of the year honors his senior season with the Bulldogs.
Currently a second baseman for the Pittsburgh Pirates, Sanchez is a two-time All-Star who won the 2006 National League batting championship.
Although this year's group of inductees is already set, the public can nominate deserving individuals for the next group by logging on www.burbankhigh100.com.
A complete list of events and project details can be found at the school's 100th anniversary website,
https://www.burbankhigh100.com/page_loader.php?p_id=1
.
7/14/08 UPDATE
Stumbled upon this interesting column written July 1, 2008 by the Burbank Leader Sports Editor, Jeff Tully:
TULLY TALK: My candidates for induction
By JEFF TULLY
source
In just two months, Burbank High will begin a celebration 100 years in the making.
The 2008-09 campaign will be highlighted by centennial-year festivities and will include a variety of events, honors, retrospectives and a host of celebrations to mark the school's 100-year anniversary.
Burbank High has grown into an award-winning school since its humble beginnings. Before 1908, residents in the city had to attend high school in Glendale. However, a bond measure was passed that year that enabled the Burbank Union High School District to construct a new school on the north side of San Fernando Boulevard.
While the new facility was under construction, the first class of 34 students took their seats on Sept. 14 in three unoccupied rooms on the second floor of the Burbank Grammar School on San Fernando and Magnolia Boulevard.
Running the school were just Principal Henry Kerr and teacher Jessie L. Hart. The new $34,000 school finally opened it doors in September 1909. Much of the campus was still unfinished and there wasn't much sports going on at Burbank High. However, there were two outdoor basketball courts on campus. Although it took a little time for the athletic programs to get going at the school, Burbank became a school with its share of outstanding athletes.
In conjunction with the centennial celebration, the school will induct its first group into the Burbank Athletics Hall of Fame. The selection committee had a large group of former Bulldogs athletes to choose from that spanned 100 years.
If I were in charge of picking the individuals for induction, there would be my top picks:
PAUL CAMERON
He was probably the finest football player to come from the school. Behind Cameron, the Bulldogs defeated cross-town rival Burroughs, 12-7, in the first Big Game rivalry contest in 1949.
After starring at Burbank, Cameron went on to stardom at UCLA, earning All-American honors. In 1953, he finished third in the Heisman Trophy voting and legendary Bruins Coach Red Sanders called him "the best back I've ever coached."
His No. 34 was retired by UCLA.
Cameron played one season in the NFL in 1954 for the Pittsburgh Steelers. As a defensive back, he had seven interceptions, recovered three fumbles and was fourth in the league in interception return yardage with 118.
He went on to a record-breaking career in the Canadian Football League.
CATHY FERGUSON
Although she didn't compete in swimming at Burbank, she enjoyed Olympic greatness while still a junior at the school in 1964.
At the Summer Games in Tokyo, Ferguson, a 1966 graduate, won two gold medals, one in the women's 100-meter backstroke (1 minute, 7.7) seconds and one as a member of the 4x100 medley relay team (4:33.9). She helped set world records in both races.
Her exceptional swimming career included five world records, 10 American records and 13 national titles.
Among her numerous awards, she was inducted into the International Swimming Hall of Fame in 1978.
FREDDY SANCHEZ
Sanchez began his success as a baseball player at Burbank High. Although he played on a last-place team, he earned Foothill League Player of the Year Honors in 1996.
His senior season he batted .419 with 18 runs batted in.
Despite being drafted by the Atlanta Braves, he chose to attend Glendale Community College and played for two other colleges before being drafted by the Red Sox in the 11th round in 2000.
He helped lead the Vaqueros to a share of the Western State Conference title and was named WSC Southern Division Player of the Year in 1998, batting .407 with 10 home runs and 33 RBI.
He has enjoyed a fine Major League Baseball career and is currently a second baseman for the Pittsburgh Pirates.
He is a two-time All-Star who accomplished his biggest feat in 2006. He ended the season with a .345 average, winning the National League batting championship. Sanchez had 200 hits on the year and led the National League with 53 doubles. He hit more two-baggers in a season than any player in Pittsburgh's history.
FRANK SULLIVAN
A 1948 graduate, he was the first athlete from the city to play in the major leagues.
He enjoyed a career as a pitcher, playing from 1953-1963 — eight years with the Boston Red Sox and parts of two seasons with the Philadelphia Phillies and the Minnesota Twins.
He was named to the All-Star team in 1955 and 1956 and led the American League in 1955 with 18 wins and 260 innings pitched.
He was such an accomplished player, the 6-foot-6 Sullivan also served as a practice player for the Boston Celtics in 1956.
CLYDE RICHARDS
He helped build a boys' tennis dynasty for the Bulldogs during the 1980s and '90s. The program was one of the top in Southern California during his 15-year tenure.
During his career with the program, Burbank won 13 straight Foothill League championships and advanced to the CIF Southern Section quarterfinals 12 of 13 years.
In 1993, Richards guided the Bulldogs to a Division III championship. The school hasn't won a title since — in any sport.
DEBBY DAY
She is one of the finest all-around athletes in the history of the school.
As a sophomore, she began her string of four career perfect games — including two consecutively as a senior in 1987.
Day, who earned All-CIF honors all three years, didn't limit her skills to the softball field, as she was a standout girls' basketball and volleyball.
However, the diamond was where she shined, and she did so at the University of Arizona.
Her best season came in 1992 when Day was a senior for the Wildcats. She made a remarkable comeback from back surgery in December 1991 to have one of the best seasons in the nation.
Along with being a first-team All-American, she was also an All-College World Series at-large pick, a first-team All-Pacific Region and first-team All-Pac 10 selection. Along with a 32-5 record and a 0.38 earned-run average, Day had 22 shutouts, 36 starts and 36 complete games. She also hit two home runs and drove in 21 runs.
She led the Wildcats to the NCAA title in 1991.
There it is, my starter list, and not a bad one if I say so myself. If not this year, all the above athletes should make it into the Burbank Athletics Fall of Fame sooner or later.
• JEFF TULLY is the sports editor of the Burbank Leader. He can be reached at (818) 637-3245, or by e-mail at jeff.tully@latimes.com.